Ric Charlesworth stands next to a cutout of World Cup mascot Olly, and goes on a nostalgia trip about his long association with India. He's been coming to the country even before many players of this generation were born, the Australian legend says. And his decades-long relationship with India has continued – first as a player for his home country and then as coach of the Kookaburras leading them to unprecedented heights.
An outsider who knows the inner workings of Indian hockey, it was on the recommendation of Charlesworth – who had a short stint as technical director of Indian hockey – that Graham Reid, his former assistant with Australia, chose to come to India as head coach. And while India's early exit from the hockey World Cup may have surprised many, Charlesworth could see the signs: from prolonged celebrations of the bronze medal at the Tokyo Olympics to losing by big margins coming into the tournament.
Excerpts from an interview:
How do you look at India's performance?
In the first couple of games, India were pretty good against good opponents. But, maybe, then they started to believe the local publicity rather than going, 'okay, Wales are a tough team'. And, you know, they nearly had a stumble against Wales, and against New Zealand.
So what you need is constant vigilance. And the result in Tokyo, which was so good, India celebrated for a while. You have to get out of that mode and say, 'what do we have to improve and get better?' Because three years later, you have to be better, you have to improve. That's part of the long story.
Then, you look at the detail of the game (against New Zealand). And in the game, India had any number of chances to win it. The inability to finish, maybe, reflects anxiety. I think when it comes to the shootout that was probably the case because when you get there, people start thinking about the outcome rather than the process. Graham Reid said it any number of times, but it has to be in your DNA.
Can you introduce that DNA in a team and an individual?
Yeah. Many people have commented about the shootout. You had Akashdeep (Singh), Manpreet (Singh), Mandeep (Singh) and Lalit (Upadhyay) who didn't participate. For all sorts of reasons, I had the same problem in our team. Sometimes, the senior players don't want to do it. But they have the skill. And it's a skill. You have to learn it in practice.
And senior players are not willing to do that because…?
Whatever the reason, but they can do it. When I was a player, I used to take penalty strokes and I practised a lot. I got to the stage where I could flick in any corner with the same action. And it's that preparation that gives you the confidence you can do it.
Those players have the skill. Now, sometimes it's a good idea to put in a new player. He wouldn't feel this and no one has seen him before. But in the mix, I'm surprised that some of those players were involved in that shootout because you then had the opportunity to win it. Harmanpreet (Singh) decides to do something that he hasn't done before. Why is that? That's pressure.
Bhubaneswar: Indian captain Manpreet Singh with teammate Akashdeep Singh during a practice session ahead of the match against Wales at the FIH Odisha Hockey Men's World Cup 2023, at Kalinga Hockey Stadium in Bhubaneswar, Tuesday, Jan. 17, 2023. (PTI)
Do you see India as a team that plays well in moments rather than some elite teams that manage to control the game for all 60 minutes?
You have to develop a team that can play constantly, consistently all the time. You look at the first goal against New Zealand; that was loose. Just before halftime, the game was under control. And it was loose. Why does that happen? That is usually because there's not the vigilance that there needs to be.
But if you watch that game, New Zealand were in India's circle in the first seconds of the game, and constantly got there in all four quarters. That's the thing that worries me the most. Usually, teams get in there because of mistakes by the defence more than brilliant play… And what's the thing that brings you down the most? It's the skill execution, the movement off the ball… Against New Zealand, that ball from Simon Child for the first goal, Nilakanta (Sharma) wasn't sharp enough to get close. If he gets closer, it's harder for Child to get the ball across. It's never one thing. It's a range of things. The ball got fired past Harmanpreet, he wasn't (sharp)… someone gets a touch on the ball and it rolls over the sideline rather than going to someone who is standing in front of the net. And in the end, all those little details add up to the result of the game and you have to pay attention to them.
You know Graham pretty well, what must he be thinking?
He'd be shattered, and concerned. If I was Graham Reid, the questions I'd ask would be: Did we do everything we should have? Have I got all of the things that I want to be part of this programme? Every programme can be improved. India's had lots of changes of coaches over a period of time and I am sure, 18 months out from the Olympics, you got matches ahead, there's the Asian Games… Qualification for the Olympics is hard. So that will be a tough time for the programme going forward.
Bhubaneswar: New Zealand players celebrate after winning against India, in the 2023 Men's FIH Hockey World Cup match in Bhubaneswar, Sunday, Jan. 22, 2023. (PTI Photo/Gurinder Osan)(PTI01_22_2023_000312A)
You mentioned Tokyo. Do you think the crowd factor also matters? At the Olympics, they played in front of empty stands. Here they had 20,000 people in Rourkela. 15,000 here…
It can be easier to play away than at home, the expectation and pressure are sometimes greater. We (Australia) never played at home except for the Sydney Olympics, which was the only tournament where I coached when we were playing at home. We won in Holland twice, we won in Dublin playing against Argentina, and we won in India playing against Germany. Sometimes, the pressure is greater for the home team than for other teams. So I think that it's a real factor.
Something goes wrong, and the players start to focus on the outcome rather than the next thing they have to do on the field. I said before the tournament that your defence had to be skilled, organised and diligent. And you would think (India's) defence is skilled but not as organised and diligent as they ought to be.
Would you have done anything differently?
That's hypothetical. I have no idea what's happening inside the Indian team. Inevitably, there will be a post mortem. The team lost Hardik Singh and that takes an edge off the group. But the young player Rajkumar (Pal) came in. He did well but he's not Hardik. Then, are you better off with two corner (specialists) at the top? You had Rupinder Pal Singh and Harmanpreet at the Olympics. That makes it harder for the runner. I was talking to some of the penalty corner-takers, the pitch is a little bit difficult for them.
Difficult in what way, is it softer?
Well, I don't know. You have to get it right… If you try to go low, there's some drag on the turf. And therefore, if you want to lift, you have to get it perfect. Everybody is saying things like this. Harmanpreet missed the pick-up in every game. You watch them in practice, and they are doing better but in matches, there is more pressure. So those details make a difference when you add them all up.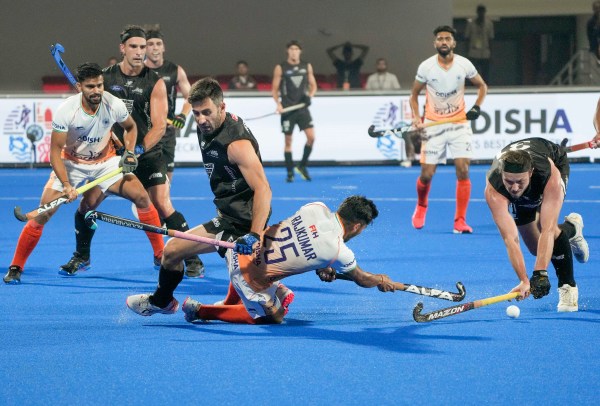 Rickworth: 'The young player Rajkumar (Pal, centre) came in. He did well but he's not Hardik.' (PTI)
You mentioned Hardik's absence, the lack of support for Harmanpreet after Rupinder retired. It points to bench strength… I don't know how the structure is in Australia but they seem to have a solid backup for every position.
I'm sure India has that. When you're coaching, you have alternatives in every position. At the 2014 World Cup, we replaced two players just before the tournament started because of injuries. But no one would have even known who was a substitute and who wasn't.
But knowing India, they have a good junior team, they have a good backup, and they have the structures, which are more solid than they were 10 years ago when I was here. The Hockey India League helped a lot. But it hasn't been there for the last five years. So that's a pity because I think that really gave local players a boost. They played next to international players, and realised they only had two arms and two legs and that they could compete with them. But I think India has depth and quality of players, I don't have any doubts about that.
Is it a question of belief post-HIL?
I'm not sure. The Indian Premier League was a critical factor in India's cricket becoming more and more confident. So it would be helpful if it was there. I'm sure. That's an issue for the administration, the FIH and the windows that they create.
How do you look at Indian hockey's overall structure?
When I was here, there were lots of small programmes developing players but not with quality facilities or coaches. I don't know whether or not that's changed. But I think the central structure has changed dramatically. The administration is solid and sound, there seems to be really good rigour about the way in which things happen. From the outside, it looks good.
Ten years ago, I had said it would be 10 years (for Indian hockey to improve). This (World Cup) is a pothole on the highway. Also, when you look at the macro vision of India, you have to also look at the women's team. They have been making steady progress along with the men. And so, these 10 years are dramatically better notwithstanding the pothole, which is the recent performance.
But there were signs along the way. The Commonwealth Games final was a sign. Even the series against Australia… that everything is not right.
And by signs, you mean…
The big losses. That usually doesn't happen. So that is a worry…
Going forward, what should be the steps to course-correct?
Teams change all the time. Teams are dynamic things, they're not static. And if they become static, they become sclerotic. So you have to change. But you have to make a judgment on each player.
There are things that you would want to improve in the coaching structure. Like the fitness staff. Those who were with India for the Olympics aren't there anymore. Why is that? They weren't offered appropriate salaries? They went somewhere else, working with other countries now. Those sorts of things. Does India have someone who's an expert in human behaviour working in their programme? I don't know.
Did you have that with Australia?
Of course, always, since the 1990s. It's very critical. The most important thing is, every coach is a psychologist, but they're not experts. You need people whose expertise is human behaviour in every elite programme because of the issue of handling the pressure and dealing with the process rather than the outcome. That's all happening up here (pointing to the brain).