The big FPL dilemma I'm wrestling with ahead of gameweek 25 is whether it's worth swapping Harry Kane out for a Liverpool attacker for the foreseeable future.
Kevin de Bruyne owners can probably do an easy straight switch to Mo Salah and you might be able to do the same as a Bruno Fernandes owner if you've already got some money in the bank.
But I think a lot of managers might be facing the Kane conundrum this week – do you take out Mr. Consistent, who's provided an attacking return in 18 of his 24 games this season, to get to Salah or maybe Darwin Nunez hoping that they'll hit a hot streak in their double gameweek against Crystal Palace and Wolves?
The Liverpool pair also now have a double gameweek 29 with two away fixtures against Manchester City and Chelsea and could potentially face Fulham at Anfield before that in gameweek 28 if Leeds can knock Fulham out of the FA Cup next week.
That would give them seven fixtures over the next five gameweeks compared to Kane's five and that will drop to four if Tottenham beat Sheffield United in the cup or if Southampton beat Grimsby. If either of those results occur, Southampton versus Tottenham would be off in gameweek 28.
That's why I'm tempted to take the punt and, if you're going to do the same, I recommend making the two transfers to get to Salah given the competition Nunez now faces for his spot from Diogo Jota and Roberto Firmino. There will probably be less time on the pitch for the Uruguayan.
Salah, as a midfielder, gets an extra point for any goal or clean sheet and is also the penalty-taker although he is still waiting for Liverpool to be awarded their first spot-kick in the Premier League this season.
If you're feeling bold you might be able to swap Kane for Nunez and get Salah in as well – it just depends what sort of response you expect from Jurgen Klopp's men after their humiliation at the hands of Real Madrid on Tuesday night.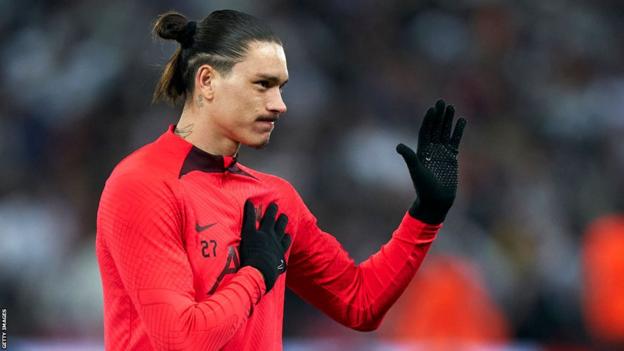 Liverpool are one of 12 teams who will now double in a bumper gameweek 29 so it's worth considering whether you might want to attack that with a Free Hit or a Bench Boost if you've got either or both of those chips left.
It's a good idea to put a potential Free Hit team together for gameweek 29 to see how far your current squad is away from that line-up.
I've decided that with my planned transfers over the next few weeks I can pretty much get to my Free Hit team and it would be more beneficial to me to play that chip in gameweek 28 to cover the blanks caused by the FA Cup quarter-finals. That decision will depend on your own squad and what works best for you.
Brighton are a crucial team for me here – they blank in this gameweek but then double in gameweek 27 with fixtures against Leeds and Crystal Palace, they're likely to blank in gameweek 28 and then double again in gameweek 29 against Brentford and Bournemouth.
It's a good example of why some managers are considering the strategy of playing their wildcard in gameweek 27 to cater for the double but also to set themselves up for a Bench Boost in gameweek 29. The Free Hit can be used in gameweek 28 to cover for all the players who blank.
A Brighton triple-up picked from Pervis Estupinan, Kaoru Mitoma, Solly March, Alexis Mac Allister and Evan Ferguson will work very nicely in that instance.
Let's get back to the gameweek in front of us though and it's no surprise to see James Tarkowski as one of the most popular signings this week.
He's still a bargain even though he's climbed in price to £4.4million, he's got a double gameweek against Aston Villa and Arsenal, he's guaranteed a fixture in gameweek 28 and the Everton defence looks far more secure since Sean Dyche's arrival. Tarkowski also offers a goal threat from set-pieces.
Finally, I think the captaincy call this week comes down to whether you go with an Arsenal attacker or, if you own him, Salah.
Bukayo Saka would be my pick of the Arsenal bunch although Eddie Nketiah would be a brave differential call and he's got to be due a couple of goals soon given the chances that are coming his way. If I manage to get Salah into my squad though I'll be giving him the armband and hoping a wounded Liverpool can be a dangerous Liverpool.
Don't forget it's a Friday night FPL deadline this evening at 18:30 GMT before Fulham's game against Wolves.
Alistair Bruce-Ball presents the Fantasy 606 podcast alongside former Premier League winner Chris Sutton and Statman Dave. The latest episode is available on the BBC Sounds app.